John Shreve - Oftimes Do I Think Of Thee (2015)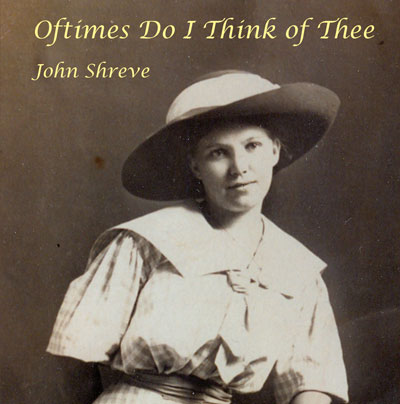 | | |
| --- | --- |
| 1. | At My Window |
| 2. | From Baltimore to Washington |
| 3. | Columbus Stockade Blues |
| 4. | Ezekiel Saw the Wheel |
| 5. | Bury Me Beneath the Willow |
| 6. | Hey Lolly Lolly Low |
| 7. | Poor Boy |
| 8. | Crawdad Song |
| 9. | Lonesome Day |
| 10. | What Did the Deep Sea Say? |
| 11. | Stepstone |
| 12. | Little Black Train |
| 13. | Foggy Mountain Top |
| 14. | More Pretty Girls than One/Who's Gonna Shoe Your Pretty Little Feet? |
| 15. | Black Jack Davy |
| 16. | Will You Miss Me? |
Die aktuelle CD von John Shreve, gewidmet dem kürzlich verstorbenen Musiker-Kollegen

Heiner Thomas
, der hier auf einigen Aufnahmen zu hören ist.
"Diese Lieder trage ich ein Leben lang mit mir herum. Meine Mutter sang einige davon , andere lernte ich von meinem Großvater. Sie waren einfach in der Luft, im Radio, auf Schallplatten. Einige Lieder stehen in Verbindung mit der Carter Family. Alle Songs wurden 1944 von Woody Guthrie, Cisco Houston und Sonny Terry in New York für Moe Asch aufgenommen. Am 19. April starteten Woody und Cisco zunächst mit der Aufnahme von sechsundfünfzig Liedern und Balladen. Am darauffolgenden Tag kamen siebzehn hinzu. Sonny Terry kam ab 24. April hinzu und es wurden fünfzig weitere Lieder aufgenommen. Die Aufnahmen sind die Versionen, die sich in meinem Kopf festgesetzt haben, seitdem ich in den 70er Jahren diese Schallplatten entdeckte. Die Lieder erzählen davon, was es heißt, ein Mensch zu sein: Es geht um Liebe, Verlust, Sehnsucht, Verrat, Trauer, Glaube, schöne und schlechte Zeiten und natürlich um den Tod."
John
------------------------------------------------------------------
John Shreve - From Texas to Montana (2004)
Bestellnummer: 04 - 0015
| | |
| --- | --- |
| 1. | The Old Chisholm Trail |
| 2. | The Range Of The Buffalo |
| 3. | Anthem 1 |
| 4. | Power in the Wind |
| 5. | Soldier´s Joy |
| 6. | The Pecos Stream |
| 7. | A Woman´s Life |
| 8. | The Freedom Song |
| 9. | Los Estados Unidos |
| 10. | Anthem 2 |
| 11. | The Old Double Diamond |
| 12. | Diamond Joe |
| 13. | Bob Fudge |
| 14. | Nothin´ to Do but Go |
| 15. | Old Buddy, Goodnight |
| 16. | Sourdough/The Miner´s Song |
| 17. | Jackhammer John |
| 18. | Bessie and Me |
| 19. | Deep Water, Ice and Snow |
| 20. | Cold Missouri Waters |
| 21. | Roll On Owyhee |
| 22. | Anthem 3 |
| 23. | Montana Backroads |
| 24. | Walking after midnight (bonustrack) |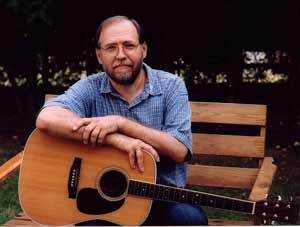 John Shreve wurde 1952 in St. Joseph, Missouri, USA geboren, wo er auch aufwuchs. 1969 kam John als Austauschsschüler das erste Mal nach Deutschland. Während der 70er Jahre teilte John seine Zeit zwischen Montana und Europa und er lebte in der Bundesrepublik, Schweden und Frankreich. John lernte seine zukünftige Frau 1977 in Ost Berlin kennen. Bis 1983, als sie und ihre gemeinsame Tochter aus der DDR ausreisen durften, pendelte er zwischen West und Ost Berlin. 1989 promovierte John Shreve an der Freien Universität Berlin in Germanistik. Seine Doktorarbeit über den Liedermacher Wolf Biermann erschien als Buch unter dem Titel Nur wer sich ändert, bleibt sich treu. 1998 veröffentlichte er eine Geschichte eines brandenburgischen Dorfes, Reetz. Ein Dorf in der Brandtsheide. Er hat auch zahlreiche Artikel zur deutschen Geschichte veröffentlicht.
Seine erste musikalische Prägung stammt von seinem Großvater Ralph Layson. Johns Mutter, Kay Shreve (zu hören beim Bonus Track auf dieser CD), ist auch Sängerin. In der Grundschule lernte John amerikanische Folksongs und wurde von den Aufnahmen von Woody Guthrie, Bob Dylan, Utah Phillips und Si Kahn beeinflußt. Dennoch begann er erst, als er Anfang vierzig war, selber Musik zu machen. Mit Thinking of Home veröffentlichte er eine Sammlung alter und neuer Folksongs. Seine neue CD, From Texas to Montana, ist eine Sammlung von Liedern, Gedichten und Instrumentalstücken über den Westen der USA.
John Shreve was raised in St. Joseph, Missouri. Every summer the family traveled to the West, to Colorado, the Yellowstone region, Montana and the Northwest Pacific coast. In 1968-1969, he spent a year as a foreign exchange student in Germany. Throughout the 1970s, he divided his time between Montana and Europe, living in West Germany, Sweden and France. John met his future wife in East Berlin in 1977. Until 1983, he regularly traveled between West and East Berlin until his wife and daughter were allowed to emigrate. In 1989, he got his Ph.D. in German literature at the Free University in West Berlin. His dissertation about the songwriter and poet Wolf Biermann appeared in book form as Nur wer sich ändert, bleibt sich treu. He later published a history of a small German village from the state of Brandenburg, Reetz. Ein Dorf in der Brandtsheide.
The earliest musical influence was his grandfather, Ralph Layson, a Free Methodist lay preacher who sang religious songs. John´s mother, Kay Shreve, is also a singer (you can hear her sing at the bonus track of this CD!) In elementary school, folk songs were sung and John was strongly influenced by the recordings of Woody Guthrie, Bob Dylan, Utah Phillips and Si Kahn. Nevertheless, he did not begin singing until he was in his early forties. He recorded a collection of old and new folk songs, Thinking of Home, which is available as a music cassette. His most recent recording, From Texas to Montana, is a collection of songs, poems and instrumentals about the American West.