Wayne Grajeda - Chameleon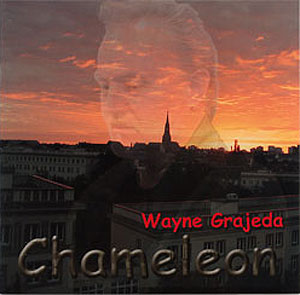 Bestellnummer: 05-0020
VÖ 2005
| | |
| --- | --- |
| 1. | When the nighttime comes |
| 2. | Chameleon |
| 3. | Private property |
| 4. | Good intentions |
| 5. | He rides the Bakerloo |
| 6. | Galahad |
| 7. | You´ve got that girl |
| 8. | Snap Zoom |
| 9. | Maybe I love you |
| 10. | Hold the line |
Wayne Grajeda began developing his melodic rock style in the music clubs and studios of his home town Los Angeles. It was there that, as a member of the band Eastfield Meadows, he signed a record contract with VMC Records and released his first album. Among the players on the sessions were Kent Henry, lead guitarist from Steppenwolf, and Mike Botts, famous for his drumming with Linda Rondstadt, among many others.

Wayne•s early travels led him to Munich, Germany. There he began performing in what would become countless clubs and concerts throughout Europe. When he was offered the understudy part of Jesus in the musical Jesus Christ Superstar he headed for the then •walled city• of Berlin to join the cast. After the show lowered it•s final curtain he decided to stay. In Berlin Wayne is still known as being a member of the Hagelberger Street Group, a collection of singers, songwriters and musicians who acquired their name from the celebrated Hagelberger Strasse 14 address where many of its founding members once lived. These artists performed every night of the week until the wee hours of the morning during some of the most exciting years of the city•s music scene. In 1996 many of them, including Wayne, reunited to collaborate on an essentially •live in studio• album titled "Hagelberger Street • Americans In Berlin". Recorded in Los Angeles, Toronto and Berlin, the CD and accompanying booklet, containing personal stories about Berlin written by each of the songwriters, capture much of the intimate sound and atmosphere of that unique period.

The Berliner Morgenpost newspaper wrote: •HAGELBERGER STREET• IS NOT ONLY A FINE COLLECTION OF HIGHLY-CRAFTED ACOUSTIC-SONGS, IT IS ALSO A DOCUMENT OF A TIME WHEN, BETWEEN TWILIGHT AND THE EARLY MORNING GREY, GREAT MUSIC RANG FROM SMALL STAGES.

Not long after arriving in Berlin Wayne teamed up with singer/songwriter Tom Cunningham and, armed with a demo they recorded with then Donna Summer producer Pete Belotte, headed for England. One night Gerry Rafferty•s manager Ray Williams and legendary songwriter/producer Jerry Lieber saw the duo perform in London. Within weeks Williams and his partner Robert Wace, who had guided the career of the Kinks, became their managers, had helped them form a band and got them signed to a world-wide recording contract with Warner Bros. Records. The group subsequently recorded an album with the Who•s producer, Shel Talmy. A single written by Wayne titled "Just Like In The Movies" was released. It seemed the hard work had paid off and a dream had been realized but after playing shows that included dates in Germany, Italy and England the members succumbed to the inner-band trials and tribulations suffered by so many music groups and they disbanded in disappointment.

Wayne returned to Los Angeles where he continued to perform and write music. In subsequent years he collaborated with musicians who had played with the Doobie Brothers, David Bowie•s, Bonnie Raitt•s and Bruce Hornsby•s bands. In the mid-nineteen eighties Wayne also began a career in television production and composed music for a number of television programs.

During the 1990's Wayne began once again to work with music talents he originally met in Berlin, most notably songwriter Robert Williams. Together they performed frequently in Los Angeles and Germany and recorded an album called "Staytrue Street". The title is another reference to their shared past. One of the favorite haunts of Berlin•s music denizens was a club called Go-In. Presenting acts every night of the week until at least four in the morning, it was located at Bleibtreu Strasse 17. Bleibtreu can be loosely translated to mean •stay true•. Two songs from the album, William•s "Jumbo•s Clown Room" and Grajeda•s album title track "Number 17 Staytrue Street", are surrealistic portraits in sound of the strange, seductive and beautiful inhabitants of Berlin•s renowned decadent nights. A world that, once drawn in, like so many others, neither artist could ever fully leave.

Der Tagespiegel newspaper wrote: THE DUO WAYNE GRAJEDA AND BOB WILLIAMS CONVINCE WITH BEAUTIFUL SONGS, A DENSE GUITAR SOUND AND IMMACULATE TWO VOICE HARMONIES•

As if to prove the point in 2002 Wayne departed Los Angeles and returned to Berlin to live. He continues to perform, compose and record music. In 2006 Wayne completed a new solo CD titled "Chameleon", which is available on the Bluebird Café Berlin Records label, and produced an album for fellow •Hagelberger• songwriter, Francis Serafini. At the same time he remains fully active in television work, producing, writing and directing for both American and German television production companies.
For more information about Wayne go to his website: http://www.waynegrajeda.com/